Buon Ma Thuot and around
The city of BUON MA THUOT itself has little to offer, its central sprawl of modern buildings being splayed across a grid of characterless streets. With a jeep protruding from its central column, the town's dramatic Victory Monument on Le Duan is the hub from which all the town's main roads radiate. The town grew big on coffee and rubber, and is surprisingly affluent with a spate of buildings under construction and flash cars buzzing around its streets. However, in a neat reversal of the norm, urban renewal is occurring from the outside in, and the centre is still appealingly grubby.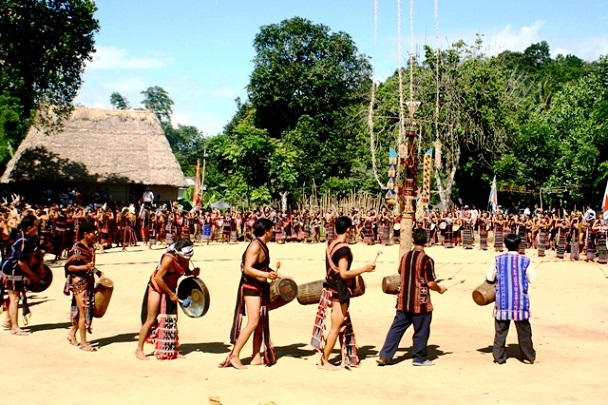 Cultural space of Gong
The main draw of Buon Ma Thuot is what can be found in its environs: nearby minority villages with longhouses; traditional minority communities (mostly E De people) at Ako Dhong on the northern outskirts of town and in the surrounding countryside at Ban Don near Yok Don National Park; and some wonderful waterfalls. Between April and July you'll see the city surrounded by millions of lemon-coloured butterflies, wafting through the air like yellow petals.


Cultural space of Gong
Brief history
During French colonial times, the town developed on the back of the coffee, tea, rubber and hardwood crops that grew in its fertile red soil, and was the focal point for the plantations that smothered the surrounding countryside: plantation owners and other colons would amuse themselves by picking off the elephants, leopards and tigers once prevalent in the area. In later years Americans superseded the French, but they were long gone by the time the North Vietnamese Army (NVA) swept through in March 1975, making Buon Ma Thuot the first "domino" to fall in the Ho Chi Minh Campaign.
Comments