Vietnam's Best Markets
To get a flavour of any Vietnamese town, head to the central market, the heart of the community. This is where the locals come each morning to ferret out the freshest vegetables, meats and spices for lunch. Or maybe their needs are a little bigger – a new buffalo to add to the herd? A couple of egg-laying chickens? If household utensils are required they can pick up everything from nuts and bolts to brooms and saucepans. On the other hand, perhaps they just want a knocked off version of the latest designer t-shirt or Japanese electrical gadget. It's all available in markets up and down Vietnam. Even touristy destinations like Sapa and Hoi An boast excellent markets full of unfamiliar spices and herbs and fascinating food stalls. The photo opportunities are unrivalled, too.
Bac Ha Market
This Sunday market is Bac Ha's big draw. There's an increasing range of handicrafts for sale, but it's still pretty much a local affair. Bac Ha market is a magnet for the local hill-tribe people, above all the exotically attired Flower Hmong. If you can, stay overnight in Bac Ha on Saturday, and get here early before hundreds of day trippers from Sapa start arriving.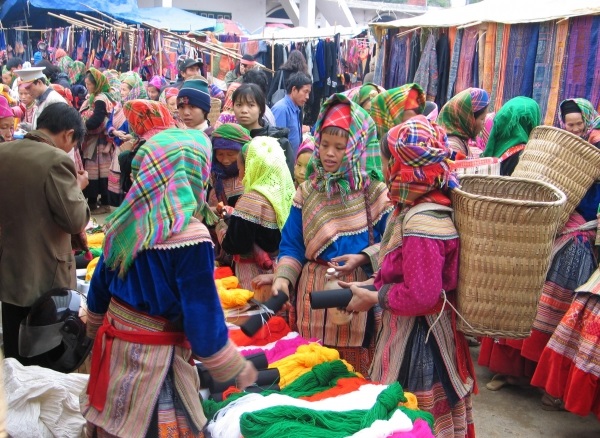 Flower H'mong women wear several layers of dazzling clothing. These include an elaborate collar-cum-shawl that's pinned at the neck and an apron-style garment; both are made of tightly woven strips of multicoloured fabric, often with a frilly edge. Highly ornate cuffs and ankle fabrics are also part of their costume, as is a checked headscarf (often electric pink or lime green).
Can Cau Market
This Saturday market, 20km north of Bac Ha, attracts a growing number of visitors. Some tours from Sapa now visit Can Cau on Saturday before moving on to Bac Ha for the Sunday market. A few Bac Ha stallholders also make the journey to Can Cau on Saturdays. It's still a magnet for the local tribal people though, including Flower Hmong and Blue Hmong (look out for the striking zigzag costume of the latter).
The market spills down a hillside with basic food stalls on one level and livestock at the bottom of the valley, including plenty of dogs. Locals will implore you to drink the local ruou with them. Some trips here include the option of an afternoon trek (for those still standing after ruou shots) to the nearby village of Fu La.
Coc Ly Market
The impressive Coc Ly market attracts Dzao, Flower Hmong, Tay and Nung people from the surrounding hills. It's about 35km southwest of Bac Ha along reasonably good roads. A day trip can arrange if you take a tour to Bac Ha.
Buoi market - Hanoi City
Located near the southwest edge of Tay Ho at the intersection of Duong Buoi and Lac Long Quan, this market sells live animals like chickens, ducks and pigs, but also features ornamental plants.
Dinh Cau Night market - Phu Quoc Island
Hands down the most atmospheric, affordable and excellent place to dine on the island, Duong Dong's night market has around a dozen stalls serving a delicious range of Vietnamese seafood, grills and vegetarian options. Look for a local crowd, as they are a discerning bunch.
Ben Thanh Market - Ho Chi Minh City
Centrally located, Ben Thanh and its surrounding streets comprise one of Saigon's liveliest areas. Everything that's commonly eaten, worn or used by the Saigonese is piled high, and souvenir items can be found in equal abundance. Vendors are determined and prices usually higher than elsewhere, so bargain vigorously and ignore any 'Fixed Price' signs.
Good food stalls are usually open until mid-afternoon, and it's an area where it pays to be extra vigilant about looking after personal items and smartphones.
Cai Rang Market
Just 6km from Can Tho in the direction of Soc Trang is Cai Rang, the biggest floating market in the Mekong Delta. There is a bridge here that serves as a great vantage point for photography. The market is best around 6am to 7am, and it's well worth getting here early to beat boatloads of tourists. This is a wholesale market, so look at what's tied to the long pole above the boat to figure out what they're selling to smaller traders.
Cai Rang can be seen from the road, but getting here is far more interesting by boat (US$10 to US$15). From the market area in Can Tho it takes about 45 minutes by river, or you can drive to the Cau Dau Sau boat landing (by the Dau Sau Bridge), from where it takes only about 10 minutes to reach the market.
Phong Dien Market
The Mekong Delta's most intimate and best floating market, Phong Dien has fewer motorised craft and more stand-up rowing boats, with local vendors shopping and exchanging gossip. Less crowded than Cai Rang, there are also far fewer tourists. It's at its bustling best between 5am and 7am. The market is 20km southwest of Can Tho; you can get there by road but many operators now offer a six-hour combined Cai Rang–Phong Dien tour, returning to Can Tho through quieter backwaters.
Dan Sinh Market - Hanoi City
​
Also known as the War Surplus Market, this is the place for authentic combat boots or rusty (perhaps less authentic) dog tags, among the hardware stalls. There are also handy gas masks, field stretchers, rain gear, mosquito nets, canteens, duffel bags, ponchos, boots and flak jackets.

Read more: Local weekly markets in Lao Cai
Comments