10 Best Beaches in Viet Nam
Vietnam's long coastline in tropical zone is an ideal destination for vacationers searching a beach holiday. Crystal clear water, white sand stretch, multiple water activities, fresh seafood and luxury resorts are available from North to South in Vietnam. See below for the best 10 beaches in Vietnam

1. Cat Ba island
Cat Ba is the main island in an archipelago, which is also named Cat Ba. As the largest island in the Gulf of Tonkin and surrounded by the stunning seascape of Bai Tu Long Bay and Ha Long Bay, Cat Ba has what it takes to become a tourism hub. In fact, acknowledging the potential of the island, the French, when they occupied Vietnam, had built Cat Ba into an established resort town of Tonkin. Today, Cat Ba, with its improving infrastructure and facilities, has been witnessing the influx of Vietnamese vacationers and foreign tourists every summer.


The most famous beaches are located on Cat Ba Island. They are the three lovely short beaches sandwiched between giant stones, namely Cat Co 1, Cat Co 2 and Cat Co 3. Nearby islands also have some very attractive yet less crowded beaches, such as Cat Dua, Cat Ong, Cat Trai Gai and Duong Danh. During summer, the crystal clear water, the luminous waves and the bracing wind under the sun turn these beaches into real paradises amidst the arid weather of Northern Vietnam.
Nonetheless, Cat Ba is not only about laying under the sun or diving into the water. Indeed, it is a lively coastal town that lightens up during the night. Cycling on double-bicycle along the wind-blowing coastal roads of Cat Ba is truly a romantic experience. A day trip to the nearby Lan Ha Bay, which is as mesmerizing as Ha Long Bay, or the mountainous, jungle-clad Cat Ba National Park will definitely enchant you.
2. Quan Lan island
Fantasizing about a carefree holiday emerged in clear blue water and refreshing marine wind, yet fed up with those over-commercialised and overcrowded beaches? If your answer is yes, then probably the next destination for you is Quan Lan Island.
Located within the mesmerizing Bai Tu Long Bay, Quan Lan Island was actually a commercial hub that hosted the Old Van Don Trading Port, founded during the Ly Dynasty. Nowadays, the island has shifted into a destination with lots of potential for tourism. No less beautiful than any famous beaches of the Southern Central and Southern Vietnam, the beaches on Quan Lan has their crystal clear water and unblemished golden sand. Indeed, Quan Lan has its edges over other beaches for its relatively remote location, which makes it an peaceful unspoiled wonderland.


Among the beaches of Quan Lan, the most pristine is the 2-km-long crescent Minh Chau Beach, whose waves are suitable for water sport, especially surfing and kayaking. Eateries and beachfront restaurants offering good seafood and beer at economical prices are just a few steps from the water.
Aside from the sand and the sea, Quan Lan is also a place of historical landmarks, especially shrines and pagodas, each is aged by the hundreds. At the northeast part of the island are the ruins of the old Van Don Port, one of the most major ports of Dai Viet Dynasty. Quan Lan Town, the most important settlement on the island, offers competent tourist services, ranging from hotels, guesthouses, restaurants to motorbikes and bicycles for rent.
3. Cua Dai, Hoi An beach
Cua Dai Beach is situated on Cam An Ward, roughly 4km away from the centre of Hoi An Town - Quang Nam Province. It is always listed as one of top beaches of Vietnam owing to its pristinely soft white sand, crystal-clear yet deep blue water, crispy sunshine, cool salty breeze, slightly sloped sea floor and the gentle waves. Despite being famous and attracting thousands of tourists each year, the beach remains rather unspoiled and undisturbed by the mass tourism. There are a few five-star resorts and hotels nearby as well as the avoidable cluster of seafood restaurants.


Except for that, the beach is spotlessly clean and natural. However, the beach can get crowded over weekends, so if you are planning to soak up the sun on your own, head towards the beach on week days. Even if you're not a big fan of beaches, a biking trip there will be worthwhile taking into consideration the scenic nature you can spot along the way. Relaxing on the deckchair under the shade of many green palm trees along the coast is enough to recharge your battery from the hectic work. But if you still have energy to spare, you won't be disappointed with the many water sports activities you can take advantage of.
4. Thuan An
Thuan An Beach is situated roughly 15km northeast of Hue and is on the spectacular Tam Giang – Cau Hai Lagoon near the mouth of Huong River. Because Thuan An is within easy reach from Hue city, it is the top beach choice for the local people, especially during the summer months when the temperature can be as high as 40 Celsius and getting away from the heat by going swimming at the beach is the best option.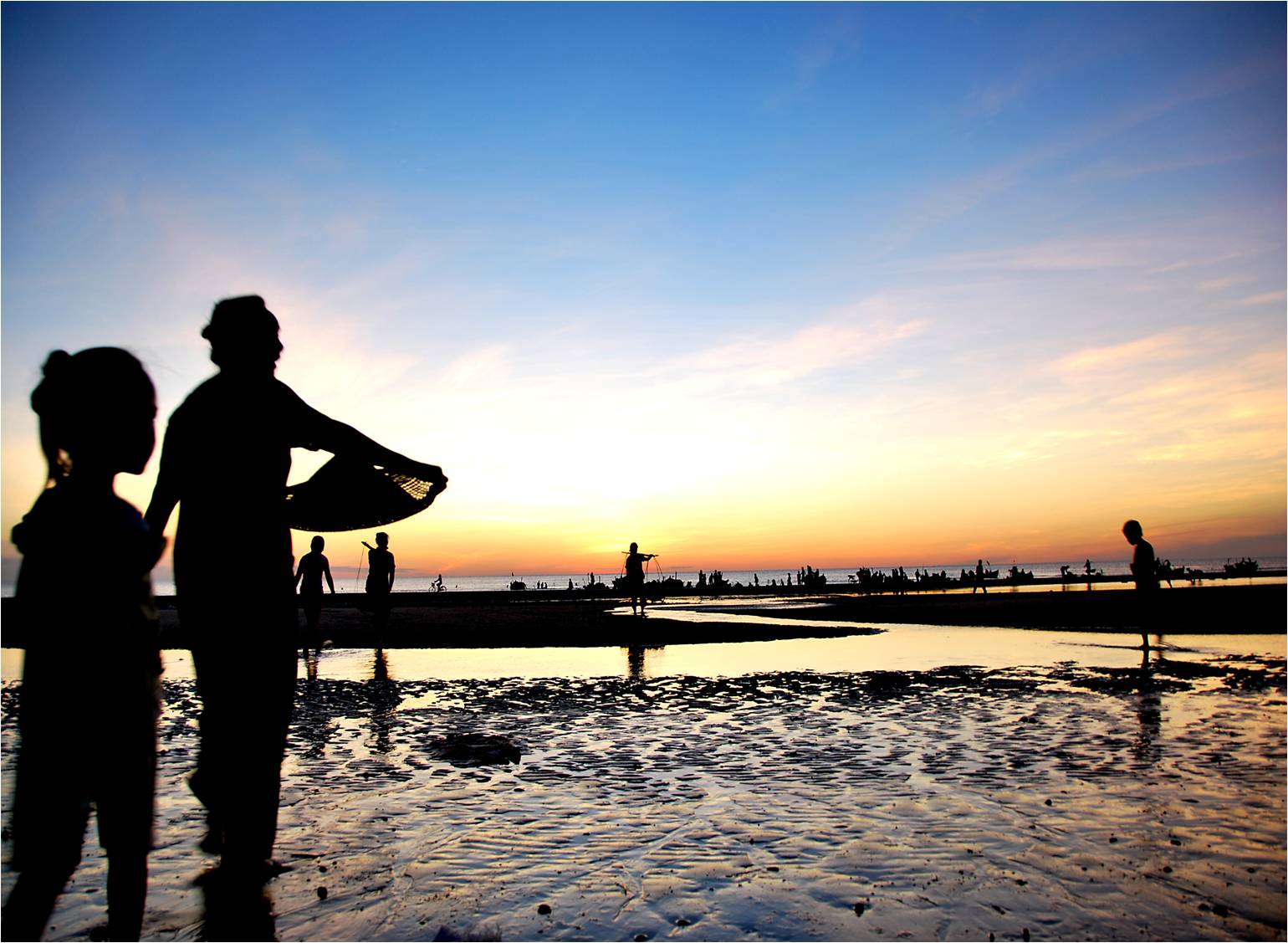 Thuan An beach does not possess heavenly scenic nature like many other top beaches of Vietnam. However, what it lacks in picturesque nature, it makes up for being a fun, locally friendly and enjoyable beach experience. During the crowded days of summer, Thuan An is lively with packs of local people, vendors scattered around, friends and families cheering with glasses of beer together with seafood and kids shouting merrily. All these fun and animated scenes of local people will promise you an authentic experience of the contemporary Vietnam. The beach is an exciting place for tourists after visiting pagodas, tombs, temples and other scenery of Hue city.
Although Thuan An's nature cannot be compared with that of famous beaches in Vietnam, it is still a nice and pleasant beach with long stretch of sand and especially splendid sunset. What is more, the road leading to Thuan An from the city center is particularly poetic with the quaint countryside village views, interesting pagodas and immense rice paddies.
5. Da Nang
Danang beach refers to long stretch of 30km white sand and clear water of Da Nang, starting from Monkey Mountain to Hoi An's outskirt, with Marble Moutain at the rough center. Locally, Danang Beach is comprised of many different sections called different name such as My Khe, My An, Non Nuoc and Cua Dai. However, this article will focus on My Khe, My An and Non Nuoc, which are considered as beaches of Da Nang. This is neither the largest beach in Vietnam, but it is recognized internationally by appearing on American Business Magazine Forbes as one of the six most charming beaches on the planet and attracts thousands of people every year
It is also ranked as one of world's top 10 Asian best beaches by Sunday Herald Sun – the Australian magazine. Danang Beach has wonderful stretches of white soft sand, crisp sunshine and pure air together with idyllic lines of coconut palm trees, providing perfect shades for sunbathing. Beside the beach is the Kinh river with its super clear water flowing into the sea and behind lies the dark green poplar forest, making up the gorgeous setting. What is more, the beach is also endowed with lovely coral, ample greenery and creatures both under sea and along the bank.
6. Nha Trang
Nha Trang Beach is the most famous beach in Vietnam for both blissful nature and the touristy enthusiastic atmosphere. Nha Trang nature is endowed with not only for the crystal-like waters and the pristinely white sand of Nha Trang's 6 km beach but also for the many idyllic surrounding islands, which will definitely guarantee you an exotic get-away from the bustling city. The rather peaceful yet energetic modern city brimming with tall green mountains in the background lie along the gently curved stretch of dazzling white sand . This perfect combination of human construction and natural beauty comes together with the amazingly clear water, colliding with the vast blue sky at the faraway horizon, which makes up the one of most spectacular settings of the country. Owing to the demand for tourism, the beachfront has gone under many makeovers for the past few years, with well looked after pretty parks, interestingly creative sculpture gardens and long lines of neatly prune trees rarely seen anywhere else spread along the shorefront. These parks and gardens serve as an ideal alternative to the beach as a place for a romantic long walk.
7. Mui Ne, Phan Thiet
A popular beach heaven in Vietnam, Phan Thiet has been internationally recognized as a desirable destination for those who are inclined to a holiday in tropical coastal areas.
With its best assets stemming from the ocean, Phan Thiet city has a regional culture closely connected to the sea and a cuisine that majorly bases on the most divine seafood. And as home to one of the most beautiful beach in South East Asia, Mui Ne, the city emphasizes on and seeks to improve the local tourism by keeping the scenery beaches clean and providing multiple recreational services aside swimming. Beside, other landscapes located in close proximity to the beach of Mui Ne such as the sand hills, picturesque gulfs, islets, Khmer ancient towers, religious architectures and markets will see to fulfilling your experiences to a larger extent.


Standing by its title as the resort capital in Vietnam, Mui Ne has a host of luxurious bungalows, resorts, hotels aligning by the sea, catering to the needs for a comfortable living of the pleasure-seeking tourists and fulfilling their experiences in this tropical paradise.
8. Phu Quoc Island
Phu Quoc is one of the most popular beach destinations in Vietnam. The island is separated from mainland's hectic traffic and offers a relaxing ambience with well maintained hotels and resorts. From Hanoi, it is a 2 hour flight to Phu Quoc while from Ho Chi Minh City, the flight time is about 40 minutes. There are also direct flight from Singapore to Phu Quoc operated by Vietnam Airlines. The island is rainy in summer month from June to September and the rest of the year is perfect for swimming.


The biggest island in Vietnam, Phu Quoc is the ultimate destination for those who are inclined to a sweetly indulgent summer by the beach. Not only is it endowed with picturesque coasts and various sea creatures, Phu Quoc has other cultural and natural heritages that captivate the hearts of tourists who are looking for a wider variety of landscapes. Moreover, the potential second Singapore, Phu Quoc has a thriving local economy and pleasing tourist services that ensure a more flexible and comfortable stay.

Beach wise, Phu Quoc offers a long list of beach destinations that cater to the needs of tourists with widely ranged preferences. Beside the typical beaches where the waves gently lap and hug the shores, there are ones where the currents are so mild they are barely felt; and the ocean, thus, becomes a giant bathtub where one can dip in the water and relax without disturbances. On the other hand, there are also beaches where the sunset glow is so glorious it becomes the highlight of the island. As such, the queen island stands by its well-established renown as one of the best vacation destination for fun lovers.

Above all, being a region thriving on tourism, the locals are friendly and receptive of newcomers. They are known for their heart-warming hospitability and professional attitudes, which will put you in awe; for, here, a five-year-old can play 'pirate' and be gentleman at the same time.
9. Con Dao islands
Con Dao Islands has another name, Poulo Condore. It is an archipelago of 15 islands within the sea region of Ba Ria-Vung Tau province in southeastern Vietnam. The island is most well known for its colonial past, during which period the French built the most notorious prison on the main and largest island of the archipelago to keep anti-colonial protestors. Owing to the lack of transportation to the island, it is left rather untouched by mass tourism. Also, for that same reason, the islands can preserve its pristine nature and serene atmosphere. In addition to great diving experience with lovely coral reefs and the marvelous scenic beach, there are some wide life watching opportunities, one of the most famous is the green sea turtles.
Con Dao archipelago has a total of 200 km of coastline with several pretty beaches with soft and pristinely white sands, blue crystal-clear water, amazing coral reefs such as Dam Trau, Lo Voi, An Hai, Dat Doc, Tre Lon, Hon Ba … where you can enjoy a variety of activities ranging from water sports to biking and trekking into the rain forest of tropical weather.
10. Vung Tau
The one-time French hub and favorite holiday destinations, Cape Saint Jacques – Vung Tau has long been known as one of the most famous beaches in the South Vietnam. However, as compared to that of other sea destinations, the oceanic beauty of the city is pretty underrated; and the city itself is largely popularized by the virtue of its close proximity to Ho Chi Minh City. The city's hidden charms are awaiting your exploration and this brief introduction will ensure that you are not missing out on any fun this vibrant city offers.


There are up to 4 beaches in Vung Tau, each being named in accordance with their geographic location in relation with the city center. As such, each beach is unique in their surroundings and thus will vary your experience with the city. One common plus is that all beaches are clean and safe for leisure activities.
Moreover, despite the city's staggering urbanization and its disruption with the local biodiversity, people consciously prioritize the conversation of the environment and, therefore, manage to keep protect the pristine beauty of the landscapes. This infectious appreciation of Mother Nature as well as the locals' hospitability never fails to impress tourists all over the world and you should be equally impacted by this positivity.
Comments