Vietnam's cyclo, a surprising miracle in the eyes of foreigners!
It is not easy for a particular vehicle to exist, to be honored and loved for generations. However, a rudimentary and simple cyclo in Vietnam has done it!
Cyclo, known elsewhere as the cycle rickshaw, has long been a popular form of public transportation in Vietnam as it is safe and inexpensive. A double seat (for Vietnamese – an average foreigner would find riding with a companion a bit of a squeeze) is supported by the two front wheels, with the driver sitting behind. It is just simple and ordinary as its appearance. No noisy sound from engines, no obscure smoke and no spending too much for commuting. The design in Ho Chi Minh City differs from the Hanoi variety in that the driver sits much higher (as do the prices!).
Cyclo tour in Saigon
From a long time ago, Vietnamese people have thought of the cyclo as a familiar means of transportation when going out. In Vietnam, it has also been indispensable for carrying all kinds of goods, especially in and out of narrow alleys where bigger vehicles cannot enter. It is not only close-knit to Vietnamese but also connected strongly with the foreigners as all of them were attracted by this unique means at the first time visiting Vietnam.

Cyclo tour in Hanoi
"Firstly, I must say that one of my best experiences in Vietnam was on a cyclo ride. And I recommend that you have at least one go at it. It's a weird but funny feeling to be moving on the road not powered by an engine. It's even more fun, at least to me, when the cyclo gets sandwiched and crisscrossed by the million motorbikes on the streets of Vietnam". A tourist said
Vietnam is becoming more and more modern; however, cyclo still survives through the time and has a stand in the minds of the residents, especially the ladies due to its carefree and gentle manner among the crowded towns and cities. Furthermore, pedicab is becoming an important foothold after the days of being faded away by taxi and "xe om" (motorbike taxi). Besides, one another advantage of going by cyclo is that the riders can tell you clearly about where you can visit and shopping at a lowest price. Many of them have a little knowledge of foreign language to have a short talk or "hands and feet" talk. Therefore, if you are backpacking tourists without guide, please call a cyclo and you can start your trip from any corners of the city.
This is another interesting point of view letting you catch scenes of daily life of city, traders, small restaurants, sidewalks… They are a feast for eyes (dazzled by all these colors), nose (suprised by the spicy flavors of Asia) and ears (to whom are not used to noise and Vietnamese language)…
You will be fond of sitting on the cyclo for sightseeing tour around Sword Lake or a round on the streets, particularly Tran Phu Street at sunset. Then, you can take a full view of Vietnam's water and mountains into your eyes and your minds either. Besides, you can traverse shady streets perfumed with the scent of Hanoi flower or take dreamy and peaceful photos in the ancient citadel.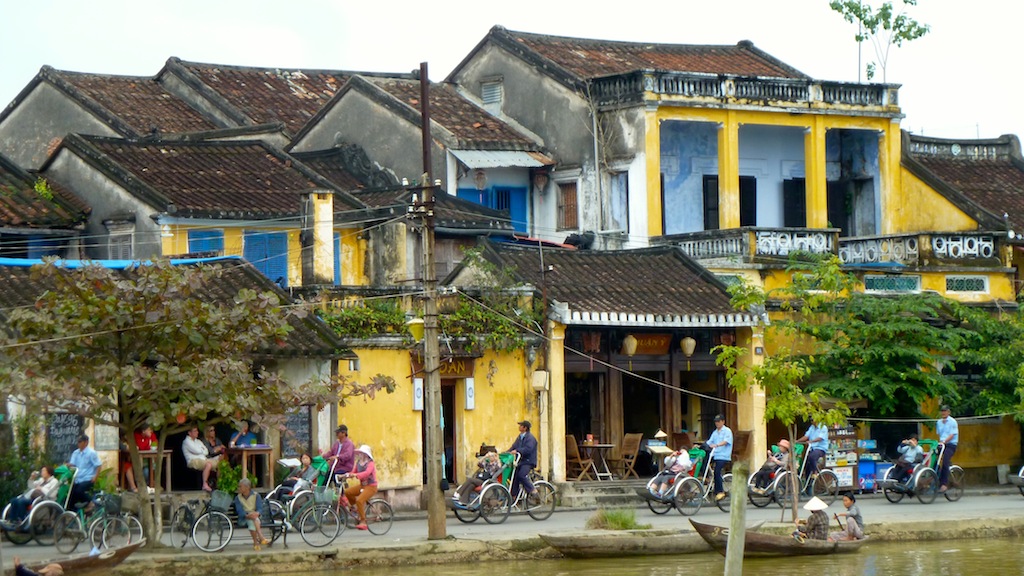 Cyclo tour in Hoi An

Traveling in a cyclo is the time for peacefully welcoming windy sunset and bright sunrises on the beach of Nha Trang or Da Nang or elsewhere. How pleasant it is for you to enjoy a relax feeling on the short urban trip.
Visit big cities in Vietnam by cyclo to dive in the soul of cities. This "authentic" way allow visitors discover the city center in intense emotions. It's like you are in the centre of a whirlwind of movement, wrapped in a cacophony of horns and the bustle of people who trying to make their way in the middle of all this excitement.
When thinking of Vietnam, tourists not only remember pho (noodle), ao dai (long dress), palm-leaf conical hats, but also a simple vehicle with three wheels, which makes you "fly" around the ancient streets in Vietnam. It is the cyclo, a surprising miracle in the eyes of foreigners!

Read more: Transportation in Vietnam

Comments