New SleepPod Services In Noi Bai International Airport
Noi Bai International Airport
in Hanoi, the capital of Vietnam, is the biggest airport in the North that is frequently visited by the huge number of flying tourists on the daily basics. Due to the high degree of tourists' arrival, the airport seems to be bustling and on-the-go most of the time. Have you ever felt tired while waiting for the flights? Do you want a private space? Need a comfortable rest? Have work to accomplish? If the answers are all YES, get to experience the new
SleepPod services
so that you're served wholesomely during the stay at the airport.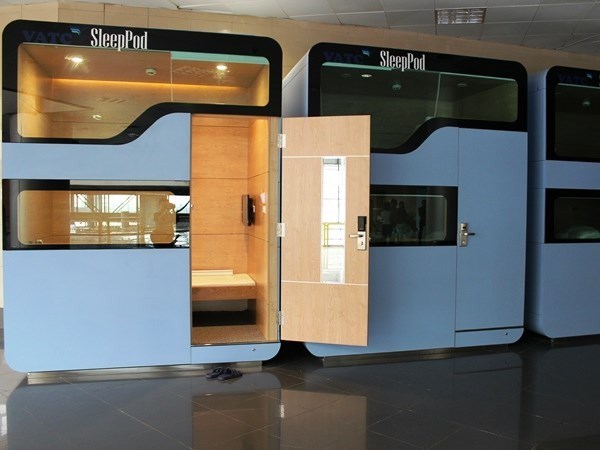 SleepPod Services – What to Know
First of all, it is known that Vietnam Airline Tourism Company (VATC) has fully taken responsibility for offering the new SleepPod Services to both domestic and foreign flying tourists. The company welcomes every client and partner to experience their newly offered services of sleeping zone. VATC Company aims to develop the new series of SleepPod packages in Noi Bai International Airport – the ideal destination for the impressive number of tourists to set foot on everyday. With the creative package of VATC SleepPod, it is motivated to think of the best place to take a rest, stay, and entertain right here.
Remarkably,
VATC SleepPod
is regarded as the small-sized hotel that has appeared in many countries such as Russia, Japan, England, Germany, Singapore, etc. Right the moment, the services are now accessible in Hanoi, Vietnam. According to the company, the model of SleepPod is designed and manufactured with the fully necessary functions for all passengers to rest, work, and play in the comfortable zone. Provided that you stay in the Airport within limited duration, take advantage of the SleepPod soon!
As the outstanding pioneer in the field of SleepPod models, VATC Company brings the new services worldwide to Vietnam. With the flexible and experienced teams, the company is confident in their abilities to add much comfort and joy to your stay at the international airport. At present, they are waiting for the wide variety of clients and partners to work with.
In the field of tourism, VATC is motivated to cooperate with many reliable partners for the mutual profits. Within the affordably reasonable prices (included 10% VAT), the SleepPod services turn to be the big magnets to many flying vacationers who are in dire need of resting before or after flying. In addition to the charges for the sleeping zone, the packages normally include several ingredients namely drinks, cool handkerchiefs, and soft foods.
​
Overall, there are two kinds of rooms included in the
SleepPod packages
: Single Room and Double Room. The prices for each kind of room associated with the adequate prices are stated clearly on the company's fact sheet. Otherwise, everybody is welcomed to contact the company's representatives to ask for the full details of prices, discounts, inclusion, payment, and many others. For instance, only pay about 210,000VND / hour for the first 3 hours of usage in the single room! Then, the charge turns to be 180,000VND / hour for the next 3 hours. In case of 6 – 12 hours of occupation in the double room, expect to pay 1,616,000VND. For more kinds of
SleepPod Services
as well as booking measures, directly contact the company soon!
Comments