Ideal winter resorts for your holiday in Vietnam
With warm climate around the year and beautiful landscapes, Da Nang, Ninh Thuan, Nha Trang and Phu Quoc are ideal destinations for tourists to stay in Vietnam's winter.


1, Da Nang
Da Nang, with long beaches and famous specialties such as My Quang (Quang noodle) and Banh Trang Cuon Thit Heo (Dry pancake roll with pork) is an attractive destination for tourists. The temperature in winter ranges between 18oC and 23oC.
Da Nang marks the halfway point between the capital in the north, Hanoi, and Ho Chi Minh City in the south. It's the fourth largest city in Vietnam. Apart from some shopping highlights and historical sights. Danang have Lang Co Beach, Hoi An and My Son
2, Ninh Thuan
Ninh Thuan lies on the southern end of Central Vietnam. A large number of the Cham ethnic group resides in this area, along with the Ra Glai and Hoa. Ninh Thuan is the driest and hottest region of the country. The climate is a combination of the tropical monsoon and dry and windy weather. The annual average temperature is 27oC. Ninh Thuan coastal province locates in the south central region and the rainy season lasts for just three months there. It is predicted to be an ideal winter resort.
3, Mekong Delta
With warm climate around the year, Mekong River Delta is an ideal place for tourists to discover the beauty of the region with floating markets, orchards and ancient pagodas.

Enjoy countless photo opportunities of the idyllic scenery and local people as you cruise past buffaloes ploughing fields, fruit orchards and rice paddies. Visit a family homestead, where you'll be invited to enjoy fresh coconuts and fiery Mekong whisky.
4, Phu Quoc
Phu Quoc is becoming well known for stunning beaches, untouched natural environment, the easy going and relaxed atmosphere, friendly locals, and fantastic scuba diving and snorkeling.The majority of Phu Quoc Island is dedicated to National Park and protected marine environment, providing a memorable experience, with plenty of exciting activities and places to visit to keep you and the family entertained during your stay.

Phu Quoc is considered a tourist paradise in Vietnam. Like other inland provinces in the southwestern region, the weather here is warm with temperature ranging above 20 oC.
5, Phan Thiet
Located in the coastal area in the south central region, Phan Thiet has a hot and dry weather. This is one of the most attractive destinations in Vietnam with romantic beaches, golden sand dunes and luxury resorts as well as unique local festivals.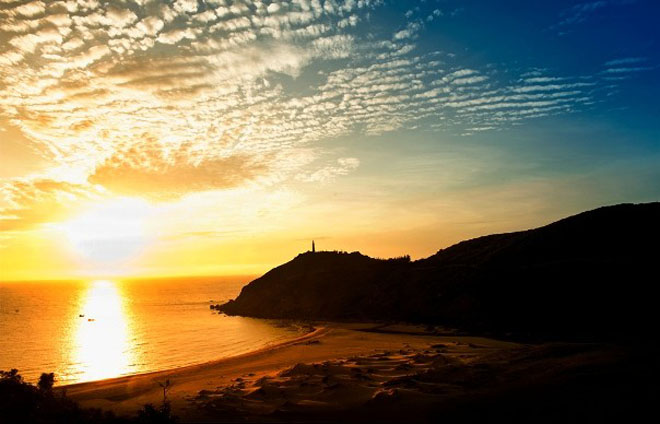 Phan Thiet, which is rather larger, is famous for its fish sauce, an ingredient in most Vietnamese dishes. It, too, has a beautiful beach. There is a wide range of accommodation, and restaurants offer a huge selection of seafood at very affordable prices. There are golf courses, beautiful pagodas, spectacular red and white sand dunes, and a variety of water sports.
6, Phu Yen
Phu Yen province encompasses a diverse landscape of mountains, rivers, lagoons and fertile plains with nearly 200 kilometres of shoreline along Vietnam's curving south-central coast.
The capital city Tuy Hoa offers a good base for exploring the beaches, bays and offshore islands up and down the coast, with an ancient tower (Nhan Cham) to see and a large seated Buddha on a hilltop just north of the city. The nearby Vung Ro Bay features a deep-sea port and a forest reserve in its surrounding hills home to a number of rare and exotic plants and animals.

Life here is laid back, with all the attractions of a seaside fishing village to enjoy -- fabulous fresh seafood and relaxing on the sands under the tropical sun, plus excursions inland to walk up the gently sloped mountains for gaining a bird's eye view of this peaceful province.
Phu Yen is considered the cradle of Bai Choi singing. With warm weather and situated in the coastal area of the south central region Phu Yen is famous for beautiful landscapes such as Ghenh Da Dia, Vung Ro, Thap Nhan and Mui Dai Lanh.
7, Nha Trang
Nha Trang is Vietnam's premier beach destination. Home to 6 km of soft yellow sand, back-dropped by mountains and within easy reach of many islands, it's the perfect destination for water sport enthusiasts, sun worshippers and seafood junkies. The nightlife is happening to, making it a popular spot for tourists traveling the length of Vietnam's S-shaped coastline.

Nha Trang is among the world's top bays with romantic blue beaches and white sands. The place has warm climate around the year with temperature ranging between 23 oC and 24 oC from December to February.
Comments