Type of border crossings
Vietnam has
two types of border crossings -- international and local
. As you may suspect, international crossings are generally open to all foreign nationalities who are in possession of a
valid passport and visa
, while local crossings are open only to locals (on each side of the border) who are able to cross back and forth using some form of border pass. The international crossings are the only ones covered in this section.
​
Vietnam has over a dozen international overland border crossings. These allow overland travel to Cambodia (via five crossings), Laos (via six crossing) and China (at least two crossings).
Popular Crossings
The most popular overland border crossing to Cambodia is the Bavet/Moc Bai crossing. To Laos the Nam Phao/Cau Treo crossing is the most popular. While travel to China passes through both the Dong Dang/Ping Xian and Lao Cai/Hekou crossings -- depending on where in China you're headed.
Technicalities
On weekends and late hours, don't be surprised if you're asked to pay a dollar or so in "overtime" -- don't expect a receipt! Be sure that you're stamped into Vietnam for the correct length of stay.


Vietnam - Cambodia Borders
Bavet / Moc Bai
This was the first crossing between
Vietnam and Cambodia
to open to foreign travellers and it remains easily the most popular. Daily buses regularly ply the
Saigon - Phnom Penh
route and the service is both fast and affordable. Cambodian visa on arrival is available here,
Vietnamese visas
must be arranged in advance.
Kaam Samnor / Ving Xuong
This very popular riverine crossing links Phnom Penh in Cambodia with the Vietnamese town of Chau Doc. Both slow and fast boat services are available. When you arrive at the border, a fixer will generally gather up all the passports and head into the immigration office to do all the paperwork -- you're welcome to accompany them, but it's not essential.
Phnom Den / Tinh Bien
Midway between Ha Tien and Chau Doc, this crossing is open to foreign travellers and Cambodian visa on arrival are available. The closest town on the Khmer side is Kampot or Takeo -- but both are a couple of hours away. There are buses from Ha Tien to the border, though a motorbike ride is far faster. On the Cambodian side, transport is a bit sparse and travellers have reported paying upto $55 for a taxi from the border town of Phnom Den to Kampot.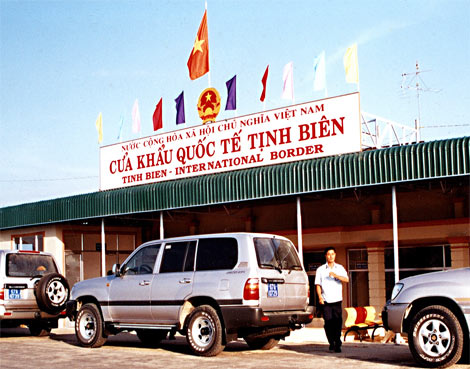 Prek Chak / Xa Xia
Yes, the
Cambodia/Vietnam coastal border crossing
is open and travellers with a valid
Vietnamese visa
can
enter Vietnam
at the
Prek Chak / Xa Xia
crossing
a twenty minute motorbike ride from Kep. A moto to the border from Kep costs
around US$7
and onwards transport to
Ha Tien
in Cambodia is available.
Cambodian visa on arrival
are available.
Le Thanh / O Yadao crossing
This remote crossing links Ban Lung in northeast Cambodia to Pleiku in Vietnam, with a through trip between the two taking about six hours. From the Vietnamese side, buses run from Pleiku to Duc Co, from where you'll need to grab a xe-om for the last 20km to the border. From the border to Ban Lung is a trip of about 70km -- expect to pay US$15-20 to charter a car for the run, $10-15 by moto.


Vietnam - Laos Borders
Sop Hun / Tay Trang
This border has finally opened to international travellers. To
get into Vietnam
, a bus leaves three times a week
from Muang Khua
on the Lao side for
Dien Bien Phu
on the Vietnamese side.
The bus leaves at 07:00
, and costs
50,000 kip (plus 2,000 kip to cross the river).
We suggest getting to the bus departure point (on the Vietnamese side of the Nam Ou) by 06:30 as seats are limited and allocated on a first come first serve basis. If the bus is full you will be left behind! Tickets cannot be pre-purchased. At the border, Lao immigration staff demand a
4,000 kip 'processing fee'
. You cannot get a
Vietnamese visa on arrival,
so arrange this beforehand. In the opposite direction buses leave three times a week from
Dien Bien Phu
to
Muang Khua at 05:30
. Lao visa on arrival is available at the border.
Na Maew / Nam Xoi
For those coming from Vietnam, this crossing offers convenient access into the bookdocks of Laos' Hua Phan province. It is a short ride from the border to Sam Neau. Through buses run from Sam Neua to Thanh Hoa in Vietnam taking 10-12 hours. If you don't want through transport, there are songtheaws to the border from Sam Neua for 21,000 kip but there isn't much on the Vietnamese side to pick you up.
NamCan / Nam Khan
Convenient to the Lao town of Phonsavan and the large Vietnamese city of Vinh, this border is the crossing of choice for most overland travellers. Coming from Vinh there are buses to Phonsavan departing at 6:00 on Tuesdays, Thursdays, Saturdays and Sundays, costing 142,000 VND (100,000 Laos kip). The trip is 403 km and should take about 12 hours. Through buses to Luang Prabang leave at 06:00 as well, on Wednesdays and Sundays only. The 690 km journey costs 325,000 VND (216,000 Laos kip). Vietnamese passengers pay less (but then again, they pay taxes and you don't!) Lao visas on arrival are available.
Nam Phao / Cau Treo
Convenient to the Lao town of Lak Xao and the large Vietnamese city of Vinh, this border is the crossing of choice for most overland travellers. Coming from Laos, the border is 34 km east of Lak Xao -- you can catch a bus to the border and then walk across to the other side, 500m away, and after entering Vietnam, find a connection to Vinh, about 100km away on the Vietnamese eastern coast, and from there to your city of choice in Vietnam. You'll need to have your Vietnamese visa in advance, of course.
Dansavanh / Lao Bao
This was the first land border between
Laos and Vietnam
to open for international travellers, it was for a long time the most popular, but many now opt for the more northern crossing
near Lak Xao instead
. This crossing is convenient for
Hue in Vietnam
and
Savannakhet in Laos
. Lao visas are available and through buses from
Savannakhet to Hue
run daily.
Bo Y / Ngoc Hoi
Convenient to Attapeu and Laos and Kontum in Vietnam, the border at Bo Y is wide open to foreigners, and now provides an interesting, if somewhat challenging, way to enter Vietnam. Of course, as ever, you'll need to have obtained a valid Vietnamese visa before hitting the border. In Attapeu, mini-buses for Bo Y leave in the morning -- the first departure is at 07:00, running through to about 10:00. The price to Bo Y is 80,000 kip. It's 119km from Attapeu to Bo Y. Once everyone is processed the vans continue on to the town of Ngoc Hoi, 18km on the other side of the border. The entire process from Attapeu takes about three hours. Transport options are available from in Ngoc Hoi to just about anywhere you want to go. The nearest spot on the tourist trail is Kon Tum, 68km east of Ngoc Hoi.
Vietnam - China Borders

Mong Cai / Dong Hung
Mong Cai Border Gate is in the northeast of Quang Ninh Province, 176km from Halong City, 327km from Hanoi. From Halong City, along the highway 18 to Mong Cai Town, and then across the Mong Cai Border Gate to China.
Dong Dang/Ping Xian
A taxi to Ping Xian costs 30RMB and a bus to Nanning 50RMB. Once in Nanning you can get a local bus for 2RMB into the city and there are plenty of ATMs/banks/moneychangers etc. So get a minimum of 100RMB per person at the border if you're heading for Nanning. Coming the other way getting to Hanoi is likely to cost you about 100,000 dong. Shared taxis run from the border to Lang Son where you can pick up a variety of buses or the train to Hanoi.
Lao Cai / Hekou border
The closest border crossing to
Sapa
and
Kunming
, some nationalities, including
Australians
and
some
Europeans
, can buy one-month Chinese visas on the spot on the Vietnamese side of the
Lao Cai / Hekou border for US$45
-- processing takes an hour. But Brits, Americans and a list of others have to get visa'ed up in Hanoi. Be sure to check with the Chinese embassy before you arrive at the border, and it probably makes sense to arrive with a visa in your passport in any case. Going the other way, of course, no visa on arrival is available. The number for the visa office at the border is: (0913) 388 890.
Overland crossing from China to Vietnam by train
There are two crossings in Vietnam which involve trains, both with China, but only one of them has a train on each side of the border. The Dong Dang crossing, just over 160km from Hanoi can be reached by train from Hanoi, with the trainline continuing on into China, running north eventually to Beijing. There is a thrice weekly train between Hanoi and Beijing. The Chinese side of the border is the town of Ping Xian. While you can buy a through ticket to Beijing in Hanoi, it is cheaper just to buy the ticket to Dong Dang, take a xe om over the border and buy a new ticket in China (at a reduced rate).
The second train crossing is at Lao Cai (near Sapa) in northwest Vietnam, the Chinese town of Hekou is on the other side of the border. There is no train on the Chinese side though, so you need to arrange alternative transport onwards into China.

You can also enter by boat from Cambodia.