Vietnam International New Year Day
Vietnam Lunar New Year Festival
Bai Dinh Pagoda Festival
Perfume Pagoda Festival
Giong Festival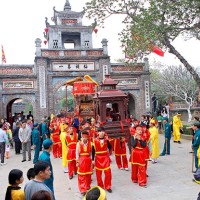 Tro Tram Festival
Lim Festival
Cau Ngu Festival
Nui Ba Festival
About ten kilometers away from Tay Ninh town, in the middle of Mekong Delta is Ba Mountain (Nui Ba)-also known as Ms. Den Mountain (Nui Ba Den). As mentioned in folklore, the mountain was named after Denh, often mistaken as Den (meaning 'black'), the daughter of a local official......
Roong Pooc Festival
Buffalo Sacrifice Festival
Chu Dong Tu Festival
Cold Food Festival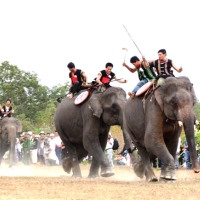 Elephant Racing Festival
Death Anniversary of the Hung Kings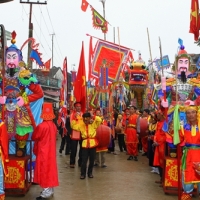 Whales Festival
From long ago, the fishermen of coastal areas have considered whales as a rare kind of mammal that do not harm anyone and instead lend a helping hand when people unfortunately meet storms on their voyages. In other words, whales are taken into account as a sacred creature as well as the savior for fishermen....
Reunification Day (Saigon Liberation Day)
International Labor Day
Le Mat Snake Village Festival
Ba Chua Xu Temple Festival is hold annually from the 23rd day to 27th day of the fourth lunar month, in Ba Chua Xu Temple, Nui Sam (Sam Mountain) ward, Chau Doc commune, An Giang province...
To an agriculture country like Vietnam, Parasite-Killing Festival is a meaningful occasion, with the purpose of preventing pestilence and disease as well as enhancing the prevention of evils and illnesses....
To any country, Independence Day is an important historical, political or cultural event associated with its current status. In most nations, this holiday originally leads to the birth of the country....
Buffalo fighting is a unique and traditional festival of people in Do Son District, Haiphong City. This festival is not only associated with Water Goddess worshiping and sacrificing custom but also expressed bravery, chivalry, and risk-taking spirit of people in the coastal city of Haiphong....
Located on Hung Dao Commune, Chi Linh District, Hai Duong province, Kiep Bac Temple is dedicated to Tran Quoc Tuan-Saint Tran, the transcendent general of Tran Dynasty who lead Vietnamese army towards victory in the war against Yuan-Mongolian aggressors in the 13th century....
Mid-Autumn (Trung Thu) is the day when the moon is at its brightest in a year. In that spirit, to worship the Moon Genie, there comes the celebration of Mid-Autumn's Festival. According to legends, this holiday is originated from a Chinese story in which an Emperor of Duong (Tang) Dynasty, Duong Minh Hoang, was taken to the moon by a wizard named La Cong Vien....
Located on Han River, Danang is a beautiful and poetic destination in the central part of Vietnam. Since the year of 2008, the city's International Fireworks Competition is held annually on April 29th and 30th....