The 7 Vietnam's Islands are as beautiful as Maldives' ones
You learned about the
paradise islands of Maldives
and you also known that a trip to Maldives will costs you a lot of money which might makes you flinch. So why don't you think about
Vietnam
? The country of peace,
Vietnam
is very famous for
delicious street foods
, cheap accommodation and friendly local people. Besides,
Vietnam
with hundreds of
stunning landscapes from North to South
, dozens of famous beaches throughout the world and over 4.000 tranquil beautiful islands such as
Coto Island,
Cham Island,
Phu Quoc Island
,
Con Dao Island,
… will definitely make you satisfied. Here are some suggestions of untouched and ecstatic islands that make you just packing luggage and go once you see it:
Pirate Island (Hai Tac Island)

Pirate Island
(located in
Tien Hai commune, district of Ha Tien, Kien Giang Province, Vietnam
) is situated 28km far from
Ha Tien Beach
and from
Phu Quoc Island
40km and is considered as a strange, wild and mysterious destination of
Kien Giang
. The
Pirate Island
is named by local people because there is a group of pirates who choose the island as a shelter, the name of
Pirate Island
was 'born' since there.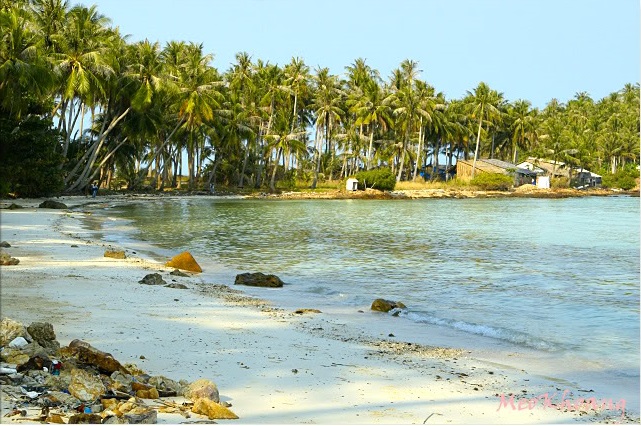 Belong to a small archipelago of 16 islands (the largest one is
Hon Doc Island
or known as
Hon Tre Lon
),
Pirate Island
is an unspoiled island with spread white sandy beaches and blue sparkling water in the sun will bring you many experiences that you can't find in Maldives's islands.
Ba Lua Island

Ba Lua Island
(also known as
Binh Tri
)
consists of 40 islets
in the waters of
Kien Luong District, Kien Giang Province.
It also is well known as '
Little Halong Bay
' of the
South
with unspoiled sceneries and white sandy beaches which is the paradise on land.
One more interesting thing as well as the most special characteristic of
Ba Lua Island
is that at the time of shallow water, you can transfer from one island to another by walk (without boats or canoes).The feeling of standing the middle of the sea is very strange, a feeling is both scared and eager to conquer.
Hon Son Island
One more island belong to
Kien Giang province
,
Hon Son Island
is situated 65km far from
Rach Gia City
to the west, between
Tre Island
and
Nam Du archipelago.
This is a picturesque and relatively unspoiled island where there is not many tourists, the prices here also are cheap as well as fixed in order to help tourists avoid overcharging.
The first scenery that catch your eyes once you arrive here are white sandy beaches, crystal clear water and lines of wild coconut trees brings you the feeling of a warm welcoming.


If you have a chance travel to
Hon Son Island,
please do not miss the most beautiful beach here -
Bang beach
and also listed in
the
Vietnam's most beautiful beaches
. It must is a destination that leaves a deep impression in your heart.
Hon Ngu Island
Located 4 km far from
Cua Lo town of Nghe An province
,
Hon Ngu Island
is considered one of the beautiful islands that you should come once in a lifetime.
Hon Ngu Island consists of two islands, the most highest is 133m height and the 2nd one is 88m height. Both of them located not too far from the land so when you look them, they look like 2 huge fishes are swimming in clear water. This is why the island is also called Song Ngu Island (2-fish island).


The special thing here is not the same with other beaches in
Vietnam
which is normal sandy beach, the beach here is fully of pebble extends for kilometers. With the crystal blue water, this is one of attractive things that you can't you're your eyes off once you arrive. Specially, specialties on the island is very famous and delicious such as delicious cobia.
Phu Quy Island
Is a small island is located about 120km far from the city of
Phan Thiet
. One of the 'specialties' on this island is sunset what is more beautiful much more than any places in
Vietnam
. You should here and admire the sunset here once, you will realize that a trip to
Phu Quy Island
is just right decision.
There are many places to admire sunset on the island such as
Linh Son Pagoda, Phung Ngu Embankment, Thay Nai Temple, Trieu Duong Bay
. Let's remember for your trip here. Besides, there are many fascinating beaches on
Phu Quy Island
with white sand, clear sparkling blue water.
Bird Island (Chim Island)
Bird Island (also called Island Wind) is located in Quang Dong commune, Quang Trach district, Quang Binh province. Bird Island is 'home' of the fishermen to rest while fishing so the island still retains its untouched and mysterious beauty.


Bird Island
is now the ideal paradise residence of gray seagulls (swallow), one of the rarest seagull species in the world. From the distance, Bird Island is fresh and gorgeous with green primitive forests and blue immense ocean. Surrounding of the island is dense short bushes interlaced with sharp rocks.
Standing at high mounds and admire the island, tourists will feel free and excited with magic beauty of nature. On the island tourist will contemplate vast sea, imposing mountains, listen to the flap created by waves bumping into cliffs or bird singing.


Bird Island
is attractive not only with magic beauty of mountains and sea but also with clean and green environment, fresh air and unique tourist attractions. In
Bird Island
, tourists will have opportunity to visit poetic surrounding islands of
Quang Binh
such as
Swallow Island, Bat Cave of Nothern island group.
Binh Hung Island
Binh Hung Island (also known as islet Ty or islet Chut) located in Cam Ranh Bay, Khanh Hoa province.


Once you arrive here, you will be overwhelmed by the primitive surroundings, stunning beaches, splendid coast sceneries and crystal blue water. Beach here is not long and wide as
Nha Trang
but the environment is extremely clean and the very clear-blue water that you can see the bottom.
The sea level is not deep and sloping that just wade out a few dozen meters, you can see the coral right beneath you. Dawn and sunset are the most ideal times for visitors to admire the charm of the island and for photographers to take the best shots. At dawn,
Binh Hung
appears stunning with rock beaches where travelers can sit on to wait for the sunrise. Expecting the first sun beams in gentle sea breezes and charming surroundings is a beautiful moment which people cannot forget. Travelers should not miss the peaceful sunset seen from the lighthouse where is a must-see destination in
Binh Hung
and is also where tourists can take a panoramic view of the island.
No need to dream of an expensive Maldives, just saving a little bit of money; plan a before-you-go list; a good mood is always ready to backpack up and go. Vietnam has still a lot of ecstatic beauty that is waiting to be explored.

Comments